Our Company
Saimaa Canoeing is there to enable all of us at least a tiny space in our lives for dreaming,
imagination, play and pleasant adventures.
We are a local operator and are here to provide you customized services. We can give you the best local tips and tell the stories that liven up your canoeing adventure. The company is a Hanhiniitty family business (see Hanhiniitty ) and its roots in our archipelago home. When you take to the waters from our place, you will get a glimpse of the local islander life, and if you wish, you can even visit our smithy. Close to us in our Niinisaari village, you will find an exquisite Restaurant Niinipuu, Okkola cottages and villas, and the Liehtalanniemi museum estate.
It is crucial for us to live in harmony and peace with both people who live and work in the Lake Saimaa area but its fauna also. We expect this from our guests as well, we don't want to be fussy, but give you clear and good guidance about safe and responsible canoeing.
We are member of the ECEAT Finland Association and follow the international quality criteria for ecological and cultural sustainability required for membership.
Juho Paaso – our paddling carpenter
Juho is a sociable and multi-talented person, at ease with everyone. He can often be found marvelling at the diversity of nature through his camera lens. To everyone's joy, he can demonstrate various paddling tricks but also how to build an outhouse. If you spot a canoe flying on the open lake with a sail, it is most likely Juho having a day off. That is how we discovered him and asked him to join us as a guide and a trainer – paddling on the waves of Lake Saimaa.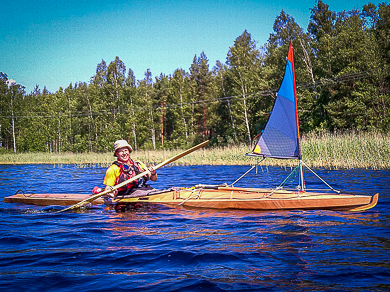 Martti Malinen – our paddling blacksmith
Martti is a man cherishing traditions. He has roamed the wilderness both for his work and hobbies, and a long time trainer of wilderness guides and a craftsman. Currently, he concentrates on making hand-forged iron pieces in the Hanhiniitty Smithy, but from time to time, he participates in canoeing expeditions, eager to paddle and train others. He is a trustable and well-balanced person, and the man in charge of safety.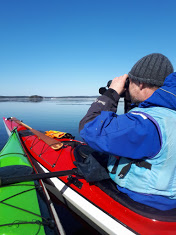 Sanna Korhonen – our paddling artistic director
Sanna is a social scientist, who tends to philosophize, a wilderness guide and a paddling trainer. She is an indigenous islander, and as a child, she paddled imaginatively on the peer. She faced an obligation to learn to paddle in her early twenties, not to be caught of telling a little white lie about her canoeing skills.

Leila Arvila – our paddling catering chef
Leila lives on an island in Lake Saimaa nearly all year round, without road access from the mainland. You might spot her double kayak in the Greater Saimaa area. She uses it to move around and to transport goods. The hatches of her kayak might be full of potatoes and carrots. As a catering chef, Leila's heart beats for making plenty of tasty food to fill her customers' stomachs. No time to to look back over her shoulder, as she is always in a hurry…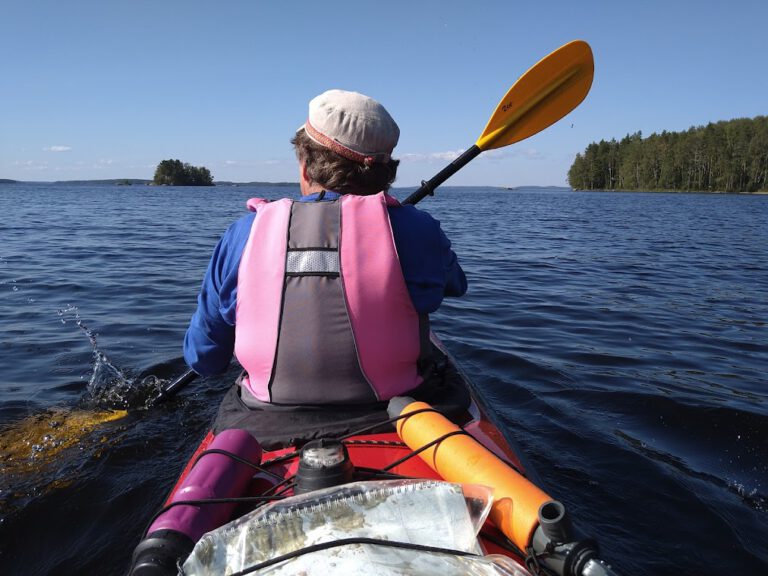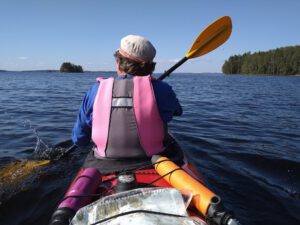 Sustainable Travel
It is said that tourism never can be totally sustainable. However, we try our best to help you be the most responsible traveller when you spend your holidays with us. The further you travel the longer it is worth staying in your destination. You can spend your entire holiday with us just using your muscle power. Instead of racing after mega experiences you can take a deep look in the wilderness around you.
Our responsible behaviour means the following, among others:
Restoration of old, deserted cabins or former building sites instead of taking over virgin land for newbuilds
We lease the campsites from local landowners. Camping is only permitted on such sites with the condition that campers leave behind as few permanent marks as possible. Then both the camper and the landowner can feel happy.
whenever possible, we use solar energy
we use composting toilets instead of wasting water for sanitation
we recycle everything that is possible.
We are involved in the Sustainable Travel Finland process in order to promote responsible tourism.
We are happy to get ideas and tips from you to become even more responsible.
Yhteistyökumppanimme
Tunnemme suurta ja nöyrää kiitollisuutta kaikkia toimintamme mahdollistavia kumppaneitamme kohtaan:
Kiitos te kaikki rohkeat maan – ja mökin omistajat, jotka olette lähteneet tekemään kanssamme pioneerityötä melontapalveluiden kehittämiseksi.
Kiitos Puumalan Seurakunta
Kiitos Puumalan Kunta
Kiitos Luukkolan osakaskunta
Kiitos UPM
Kiitos kaikki seudun muut yrittäjät, jotka pidätte yllä alueen elinkelpoisuutta
Kiitos Etelä-Savon ELY keskus ja EU:n maaseudun kehittämisrahasto
Meitä ei olisi ilman yhteistyökumppaneitamme. Jos haluat tehdä kanssamma yhteistyötä jollain tasolla, ota yhteyttä. Teemme jatkuvasti uusia reittejä, joten etsimme uusia leiripaikkoja ja palveluihimme sopivia melontakämppiä!!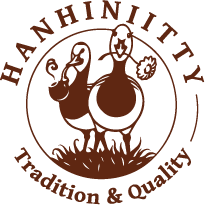 Hanhiniitty: Craftsmanship, wilderness experiences and essentials of a good life at the heart of the spectacular archipelago of Lake Saimaa.